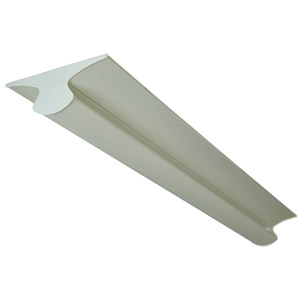 Low Glare Perforated Controller
• High Frequency Electronic gear
• Soft lighting effect
• Steel construction
• Excellent Photometric performance
Surface linear range of up and downlight luminaires designed for commercial, hospital and educational environments.
The luminaire uses T5 high efficiency fluorescent tubes with high frequency electronic control gear. The combination of perforations on the controller and reflected light off the gull wing reflectors gives a soft light distribution.
The shallow powder coated mild steel construction keeps the luminaire depth to an absolute minimum. The luminaires are designed for use in those areas where aesthetic appearance is important and there are various options of light source available to enable a suitable balance between efficacy and effect to be achieved.