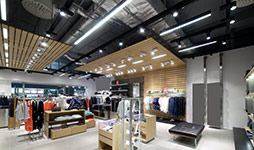 Hundreds of companies are making the switch to LED lighting. At Sondia Lighting, we now have more enquiries for our range of LED lighting than for anything else.
There are a number of reasons why LED lighting is proving so popular – and even then, people tend not to realise the full range of benefits that it can bring.
In fact, LED lighting has so many positives that we struggled to fit them all onto one blog post – so here is part two of our guide to the benefits of LED lighting, looking at the improved design and health and safety considerations of LED lighting.
Health and Safety
No Glass: High quality LED light bulbs are made from a solid array of LEDs accommodated in a robust plastic housing. For industries where glass can cause huge amounts of down-time if broken glass infiltrates production, LEDs can offer a fantastic alternative while also reducing insurance costs. This is common in food manufacturing where glass cannot be picked up with standard food x-raying equipment during quality control.
Hygienic: Some LED lights come as fully sealed units as opposed to lights in an open reflecting luminaire. This means that dust and insects cannot gather inside the unit, leading to additional maintenance costs and hygiene concerns. This advantage over traditional lighting is often utilised in hospitals, food processing factories, care homes and other health-conscious organisations.
Reduced Fire Hazard and Risk of Burns: LEDs produce cold light, reducing the risk of burns and fire hazards. Consequently, installing LED lighting can reduce insurance costs.
Design
Fully compatible: There is a retrofit LED product for almost every luminaire or an equivalent LED product for any traditional light bulb available in today's market. This means that virtually no additional expenditure is required when upgrading to LED lighting.
Improved Light Quality: LED lights don't flicker or strobe. They can have a consistent, high Light Rendering Index revealing "true colours". Panel lights provide a uniform blanket of light.
Aesthetically Pleasing: LED bulbs are compact, especially when compared to Energy Saving (CFL) Bulbs.
Robust: LED light bulbs are considerably more robust than traditional lights (containing glass, filaments and pressurised gases). They are also available in a comprehensive range of IP Ratings. The electrical components are not housed in inert gases and Kellwood sources bulbs with Japanese diodes and capacitors ensuring superior quality. This makes them very suitable in vibrating and other "hostile" environments.
Instant Light and Dimmable: unlike Energy Saving CFL Bulbs, LED lights achieve maximum brightness immediately. LED tube lights don't require an expensive-to-run starter ballast. Some specially designed LED lights can be dimmed, allowing for much more control of your lit environment.
Temperature Optimisation: LEDs work particularly well in cold environments. They are typically tested at 20 degrees Celsius and will perform even better than their "spec sheet figures" in temperatures below this, e.g. cold stores and industrial freezers. LEDs produce cold light and many organisations find that they save as much money on secondary system costs such as air conditioning, as the direct electricity savings associated with running LED lighting.