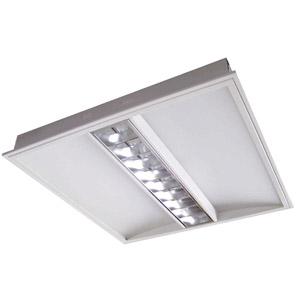 • High Quality Semi Specular MIRO Louvre
with low iridescent finish
• Easy Lamp Replacement
• Excellent Photometric performance
• High quality TRIDONIC HF Gear
Recessed fluorescent modular range of decorative luminaires designed for commercial environments.
The luminaire incorporates a compact fluorescent lamp with high frequency electronic control gear. The reflective body housing is made from powder coated mild steel, whilst the 65deg louvre is manufacture in MIRO satin anodised aluminium.
The Magnatron range of luminaires are designed for use in office areas where aesthetics and efficiency are of prime important and there are various options of light source available to enable a suitable balance between efficacy, conformity in line with LG7 and the visual effect to be achieved.