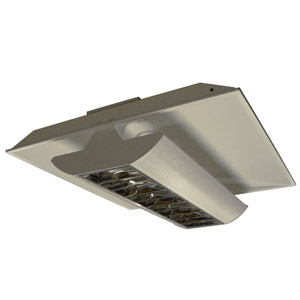 • Lift and Tilt fit for exposed 'T' grid ceilings
• HF gear for high efficacy
• Shallow recess depth
• Easy Access
• Excellent Photometric Performance
A modern range of recessed modular lighting units for use in offices and commercial areas with VDU use, giving some light onto the ceiling.
The luminaire uses either compact or T5 fluorescent lamps whilst he gull wing body is manufactured from powder coated mild steel which lifts and tilts easily into exposed 'T' ceiling grids. The range uses HF electronic control gear to give a highly efficient system. The profile of the dropped end plates can be easily modified to suit the customer's requirements and can be supplied in a variety of finishes.