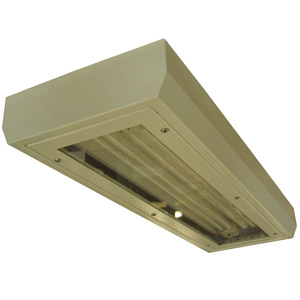 • 3mm or 5mm Polycarbonate Controller
• High Frequency Electronic gear
• Vandal Resistant Design
• Secure Anti-Ligature frame design
• Excellent Photometric performance
Surface or recessed mounting fluorescent range of shallow vandal resistant luminaires designed for commercial, prison and educational environments.
The luminaire uses T5 high efficiency fluorescent tubes with high frequency electronic control gear. The combination of mild steel bodies and frames ensures a tight fit, to help reduce the risk of ligature problems. The diffuser can be supplied with opal or prismatic 3mm or 5mm thick polycarbonate.
The geartray is made of white powder coated mild steel and is removable for ease of maintenance. The screws holding the frame are stainless steel high security Allen type with central pin as standard. The luminaires are designed for use in those areas where resilience is important and there are various options of light source available to enable a suitable balance between efficacy and effect to be achieved.