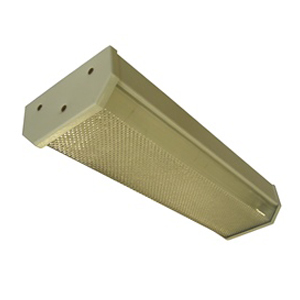 Slide-in polycarbonate controller
High frequency electronic gear
Secure anti-ligature design
Excellent photometric performance
This is a range of ceiling-mounting T5 or T8 fluorescent vandal-resistant luminaires, designed for cell requirements in prisons and other secure environments. The luminaire uses T8 fluorescent tubes with high frequency electronic control gear. The combination of mild steel bodies and endcaps ensure a tight fit, to help reduce the risk of ligature problems.
The diffuser can be supplied with opal or prismatic 3mm thick polycarbonate. The geartray is made of white powder coated mild steel and is removable for ease of maintenance. The screws holding the endcaps are stainless steel high security Allen type with central pin as standard. The diffuser slides in from one end to maintain the resistance to attack.